"Info sessions and Mobile Stand in the town square" for jobseekers';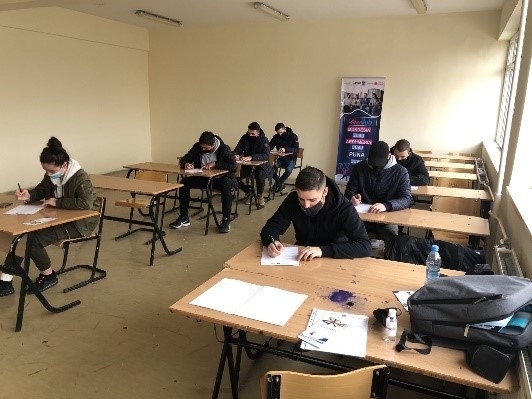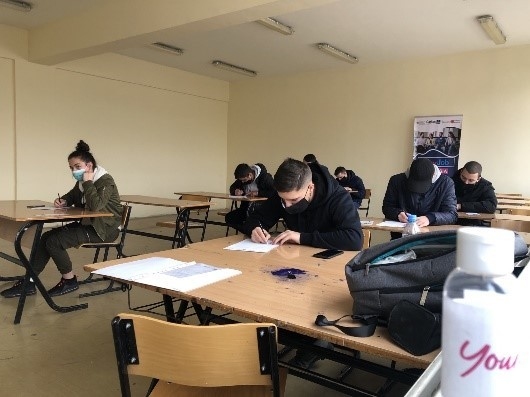 By respecting the safety measures agreed upon priory with the school authorities, the info session has been organized for the representatives of the classes of 12th grade - the last school year of technical school "Arkitekt Sinan" in Mitrovica. As agreed, the info session for representatives has been organized under health safety measures by using the disinfectant before entering the training space, maintaining the sitting distance, and wearing masks. The project "Your Job" has been presented to the 8 participants with the purpose that the knowledge gets transmitted further to their respective classmates and relatives afterward. The interested job seekers have been provided with promotion materials and the contact of a Guidance Counsellor who will welcome them anytime.
In order to be as close as possible to job seekers, an innovative idea was the installation of a mobile stand in the town square. This activity provided great results as for the first time the three previously trained volunteers have been involved. The process of presentation towards the jobseekers like the introduction on the project, the opportunities, and the guidance counselling process as one of the main elements, has been monitored by the GC on-site, and later the volunteers handled the process alone. Around 20 questionnaires have been filled by the job seekers within the two days, among which there are two from job seekers from the NEET category. It is expected that the number of interested job seekers will increase as many of the questionnaires have been disseminated through their mates that have filled the questionnaires already. Additionally to the presentation on the project, the leaflets have been distributed to the job seekers and they have been advised to follow us through social networks. The great outcome is the promotion of the "Your Job" project reached through this activity. The plan is to organize the same activity when the weather is suitable and the volunteers available.