Successful story Lumturie Hyseni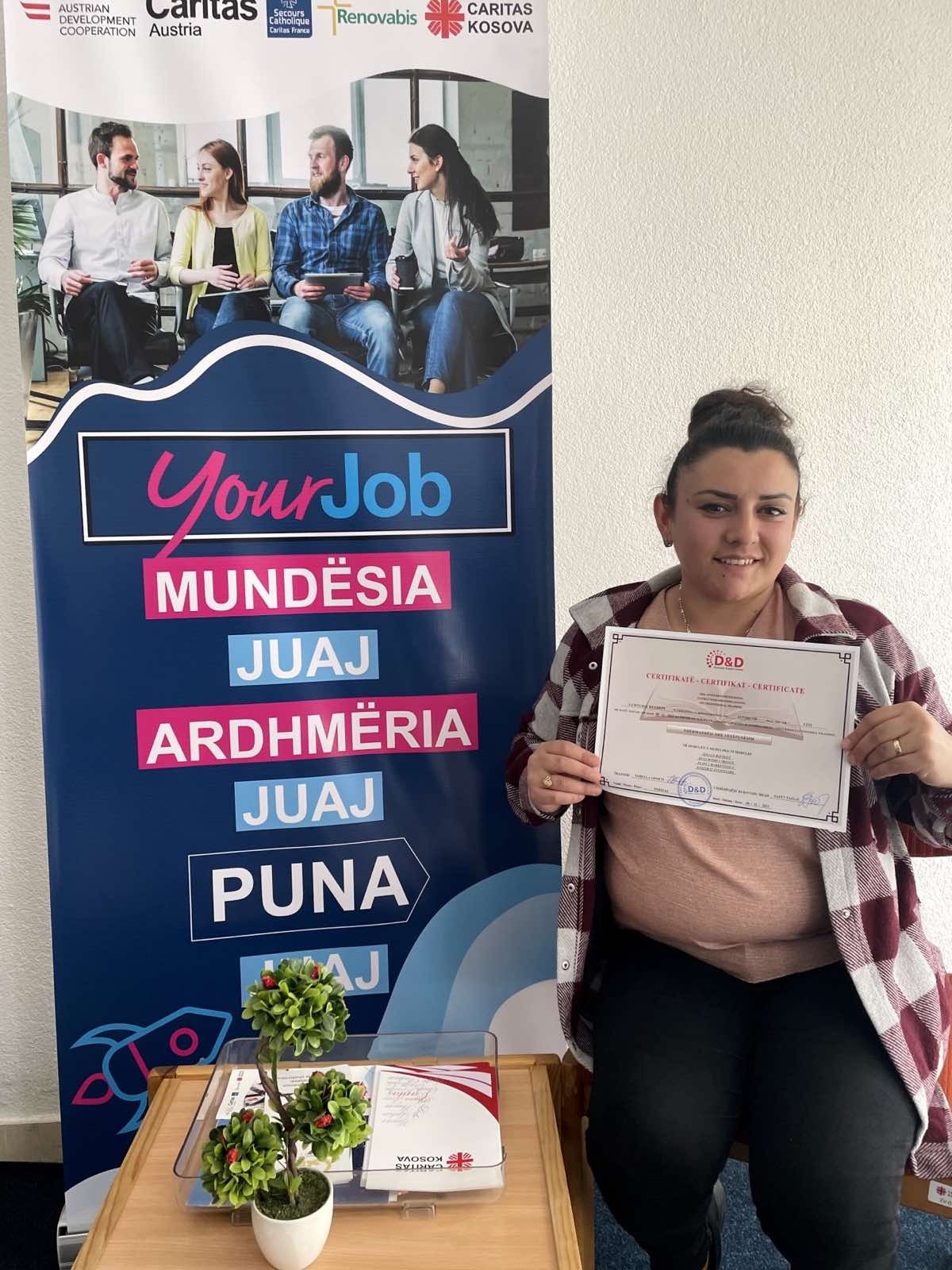 Lumturia is a 29-year-old woman from the Municipality of Viti, who has benefited from practical work from the YourJob project. We have held several counseling meetings with Lumturia because it has been challenging to restore her self-confidence and orient her to a sustainable profession. Lumturia has only finished high school and was repatriated in Kosovo, which made it even more difficult for her to find a job.
In addition, the situation with the Covid-19 pandemic not only had an impact on her employability but also harmed her health, she was infected and had a miscarriage in the 6th month of pregnancy, after this she had a very hard time dealing with her mental health as well.
In counseling meetings, we tried to be very careful and we tried to hear her needs, has expressed that she needs to leave home, be more active, and start working towards her goals.
We noticed that she has a passion for sewing and that she had some knowledge in this profession, later we proposed a practical job at the business "Tailor Labi", which Lumturia welcomed with great joy.

During the evaluations meetings, we noticed that Lumturia was very committed to this profession, that every day she improved and had will for work, her owner was very satisfied and was ready to offer her a job, she also saved money wherein the second month of the internship she bought a secondhand sewing machine, which she used at home to learn and practice more.

In the last month of internship, Lumturia has attended a 10-day training for entrepreneurship and business supported by D&D Business Support Center, then she was announced that she was selected as a winner of the grant for start-up businesses in the field of tailoring, the support provided by the GIZ organization. From November she started with the implementation of her business idea and soon she will open her store for sewing in Kllokot.

"You have opened a door for me, which then has opened many others for me and my family, thank you very much from the bottom of my heart!" said Lumturia during an evaluation meeting

As YourJob team are very happy to help the youth in their employment path, who despite all difficulties have a great will at heart which will always lead them to great opportunities in the labor market.